#1 Importance of Record Storage 
We're living in a fast-paced and modern generation, where everyone is busy. Too busy to organize their stuff and throw the unnecessary.  Maintaining cleanliness and tidiness amid the pile of stuff in our homes and work place is a dilemma solved by self storage.
Tip:
 If you have a business, record storage can be used for keeping office papers and documents, until they are needed. In this way, you can maximize your work space by eliminating files that are not immediately needed.
Some people use services to keep their belongings and important documents safe, just in case their home gets destroyed by any natural calamities. While some people just needs a temporary storage for their valuables, while they undergo an office renovation.
There are a lot of reasons to keep a storage service, and figuring out why you need it helps you choose the right kind of unit. This will also be a deciding factor as to how large the unit would be or how long you'll be needing it.
#2 Decide on the Type of Storage Unit
There are a lot of types of storage out there. You'll be having to weigh these options well, in order to choose the one that fits your storage needs.
"United States has more storage units than McDonald's."
The first thing that you need to consider is the items that you'll be storing. Ask yourself..
Number of items?
Will they take much space?
How are you going to position these items?
It is important to make sure that the unit that you'll be keeping fits all your items, and would also allow you to walk around the unit. You have to give some space allowance, so that you take your items in and out without a problem.
On the other hand, in considering a record storage unit, you should be wary of the documents that you store because they bring great value to your organization's investors and stakeholders, but it can also pose a great risk at the same time.
#3 Check the Security of the Storage Unit
We all want our valuables to be safe at all times, don't we? So, before you choose a unit, you have to be 100% sure that the place is secured and the company is trustworthy. But the question is, how will you know whether your prospect company is well equipped? In order to promote the safety of your valuables, all of the following should be present in the storage facility:
Storage unit door
Sturdy Construction
Well lit exterior
Professional Staff
#4 Do your Research
Before you transfer all your belongings into a unit, you should first do your research.  It is important to weigh down your options in order to come up with the most accessible, cost-efficient and reliable storage unit. Here is a checklist to help you:
Does my items fit the sizes of the lockers?
Are their price reasonable and fit to my budget?
Is the storage facility reputable and trustworthy?
Is the facility near my home or work place?
If you agreed in all the mentioned questions above, then you've probably picked the right facility for your valuables.
But if you're still skeptical and unsure, you can always refer to online reviews from customers who've experienced your prospect company's services. In this case, you'll have an idea on what to expect and to avoid base on their experiences. However, you should also be careful because we all know that not everything we see on the internet are true, some may just be sugar-coated lies.
In Conclusion
With all the storage companies available, choosing your record storage may be overwhelming and you might not know where to start. But, it shouldn't be that complicated. You just have to assess your belongings, and decide on what storage unit will fit your needs. But remember to check the self storage facility in person before anything else.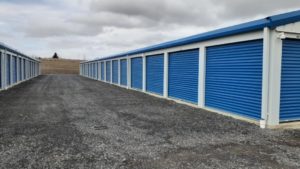 Car Storage | Home